A "Damngorgeous" Evening – Celebrating the Vision of Millard Sheets to be held on September 10, 2011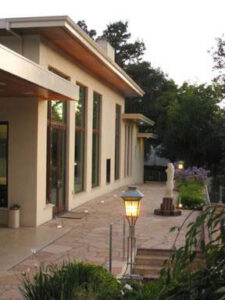 (August 29, 2011) – We invite you to cover the Claremont Museum of Art gala on September 10 at the home of Dr. Gerald and Barbara Friedman in Padua Hills. Guests will be among the first to see this exquisite home come back to life. You will have the opportunity to learn more about the history of the Millard Sheets house and the revival of the Claremont Museum of Art. Cocktails from 5:00, seated dinner at 7:00pm,speakers will begin at 7:45pm.
Home to the Sheets family in 1940s-60s, the house burned in the 2003 wildfire. Working from the original Millard Sheet plans, the Friedmans have rebuilt the house, which features stunning architecture, expansive patios and a sweeping view of the foothills.
Millard Sheets was one of the most important and influential artists to emerge from the fertile Pomona Valley. His son Tony and daughter Carolyn will share Millard's vision and stories of his life in Padua Hills with us. A special display will feature historic articles and photographs. For the art lover, there will be unique auction items including mid-century artworks such as a Millard Sheets lithograph and a Harrison McIntosh bowl. Carolyn Sheets Owen-Towle will have her recent book, DAMNGORGEOUS: A Daughter's Memoir of Millard Owen Sheets, available for signing.
Special thanks to our sponsors and underwriters Chef Henry Gonzales of Spaggi's, Marguerite McIntosh, Barbara Brown, John Maguire, Janet Myhre, Gould Asset Management, LLC and Sandy
Baldonado. And we appreciate the support of A-1 Eagle Sedan Service, Brad & Maryanne Blaine, Bunny Gunner Art Services, RP Johnson, Liquorama, Dr. Ali & Stephanie Mesiwala, Maloof Foundation, Mellon, Johnson & Reardon CPAs LLP, Rancho Santa Ana Botanic Garden, Michael & Karen Rosenthal.
Special parking instructions: Guests have been instructed to park at Vail Park, 2400 Grand Ave., Claremont. From Foothill go north on Mills Ave., turn right on Miramar Ave. and right on Grand Ave. A free shuttle service will transport you to the Friedman home at 4003 Via Padova in Padua Hills. There is very limited parking along the street and it is treacherous for pedestrians.