Helen Rae and Artists of Tierra del Sol Bring Their Unique Vision Home to Claremont
Exhibition dates: December 7, 2019 – March 15, 2020
Claremont Museum of Art, 200 W. First St., Claremont
Thirty years ago, a group of visionary artists from Tierra del Sol Foundation opened the doors of the First Street Gallery Art Center in Claremont. Since then, Tierra and its hundreds of trailblazing artists have been in the vanguard, forging professional pathways while advancing the cause of inclusivity in the art world.
The Claremont Museum of Art exhibition Vanguard: Origins of Tierra del Sol Arts in Claremont featuring Helen Rae, co-curated by Rebecca Hamm and Paige Wery, represents 15 artists from the Claremont years whose remarkable creative expressions have influenced and enriched contemporary art in Southern California and beyond. The exhibition is generously sponsored by Sandy Baldonado, Alta Rancho Pet & Bird Hospital, and Susan Guntner.
Vanguard is co-curated by Rebecca Hamm, artist, educator and Director of Arts for Tierra del Sol, working with Tierra since 1990; and Paige Wery, past owner of The Good Luck Gallery (2014-19), publisher of Artillery Magazine (2007-13), and new Director of Tierra del Sol Gallery. Tierra del Sol Progressive Art Studios are now located in Upland and Sunland.
Featured Artist Helen Rae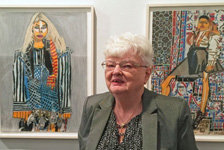 Helen Rae, who is from Claremont, is one of the studio's founding artists, joining it at the age of 50. Since then, she has become an internationally recognized artist with a prestigious list of accomplishments including national and international exhibitions, numerous publications and reviews, and a place in distinguished private collections.
In a 2015 Gallery Magazine feature on Rae, David Pagel, well-known art critic, educator, and curator, wrote, "Every square inch of her meticulously composed and vigorously colored-in surfaces is unique, distinct, singular. To look at her works is to know that you are in the presence of someone who sees the world anew every split second. That is thrilling. It's also terrifying. And I, for one, am thankful that Rae has given me a glimpse of the world as she sees it."
Helen Rae, born in 1938, has been producing art with Tierra del Sol Foundation's progressive studios for adults with developmental disabilities for the last thirty years. Rae utilizes fashion magazines as a point of departure, elevating the source material to expose a world of momentous, subversive vision.
Composed using colored pencil and graphite, Rae creates dense, profoundly fractured drawings that are instantly recognizable and inescapably alluring. A bold use of color and sophisticated command of design culminates in a torrent of pattern and texture.
Helen Rae has been featured in Vogue and Vulture, among many other publications, and has received solo shows at The Good Luck Gallery, Los Angeles, First Street Gallery, Claremont, and White Columns, New York.