Intersecting at the Edge: Karl Benjamin, Heather Gwen Martin and Eric Zammitt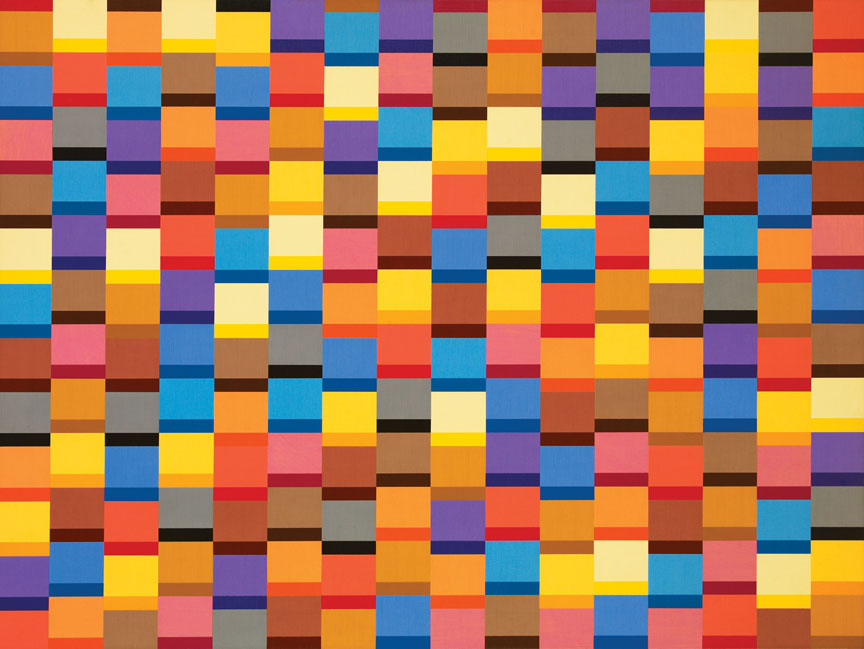 Intersecting at the Edge: Karl Benjamin, Heather Gwen Martin and Eric Zammitt 
July 13 – September 16, 2018
Claremont Museum of Art at the Depot
The Claremont Museum of Art presents Intersecting at the Edge, an exhibition that juxtaposes recent works by Los Angeles artists Heather Gwen Martin and Eric Zammitt with paintings and sculptures by seminal Claremont artist, Karl Benjamin. Using bold colors and clean edges each artist expresses a distinct sensibility that may allude to the refinement of architectural structure, the mesmerizing dazzle of echoing shapes, or the vastness of atmospheric luminosity. The exhibition is curated by Los Angeles-based artist Dion Johnson and sponsored by Louis Stern Fine Arts, Beverly and Beth Benjamin.
Intersecting at the Edge: Karl Benjamin, Heather Gwen Martin and Eric Zammitt will be on view July 13 through September 16, 2018 at the Claremont Museum of Art, located in the historic Claremont Depot at 200 W. First Street. The museum is open Friday, Saturday and Sunday, noon to 4:00 p.m. and on Art Walk August 4 and September 1, 6-9:00 p.m
In 1959 Karl Benjamin was featured in the groundbreaking exhibition Four Abstract Classicists at the Los Angeles County Museum of Art. Art critic Jules Langsner, who wrote for the catalogue, is credited with coining the term "Hard-edge" painting. While New York based abstract painters were making expressive canvases with gestural brushstrokes, stains or drips, California artists like Benjamin were synthesizing geometry and color by painting sharp edges, smooth surfaces and solid hues.
Like the California hard-edge painters, contemporary works by Heather Gwen Martin and Eric Zammitt embrace lyrical forms and chromatic sensations. The spatial explorations in Martin's oil on linen paintings employ vivid colors and crisp graphic elements to produce lively activity and unexpected situations. Comprised of precisely assembled bands of colored plexiglas, Zammitt's pristine surfaces shimmer and glow.
About the Artists
A dazzling practitioner of hard-edge painting, Karl Benjamin fills each canvas with meticulously orchestrated color. His intuitive sensitivity to the peculiar union of form and color produces works that defy reason and return the viewer to the purely sensual delight of seeing.
Karl Benjamin (1925 – 2012)
Born in Chicago, Benjamin graduated in 1949 from Southern California's University of Redlands with a B.A. degree in English literature, history and philosophy. He began his career as a teacher with no intention of becoming an artist. However, his relocation to Claremont, California in 1952, shortly after he began "playing" with paint in 1951, galvanized his sense of his career path. Benjamin was awarded the National Endowment for the Arts Grant for Visual Arts in both 1983 and 1989. His work has been featured in numerous museum exhibitions and is included in the public collections of the Los Angeles County Museum of Art; Museum of Contemporary Art, Los Angeles; Museum of Modern Art, Israel; San Francisco Museum of Modern Art, CA; and the Whitney Museum of American Art, NY, among others. Louis Stern Fine Arts is the exclusive representative of the estate of Karl Benjamin.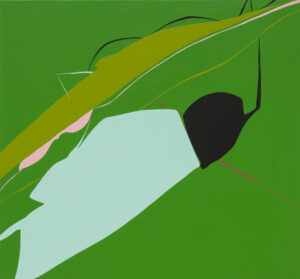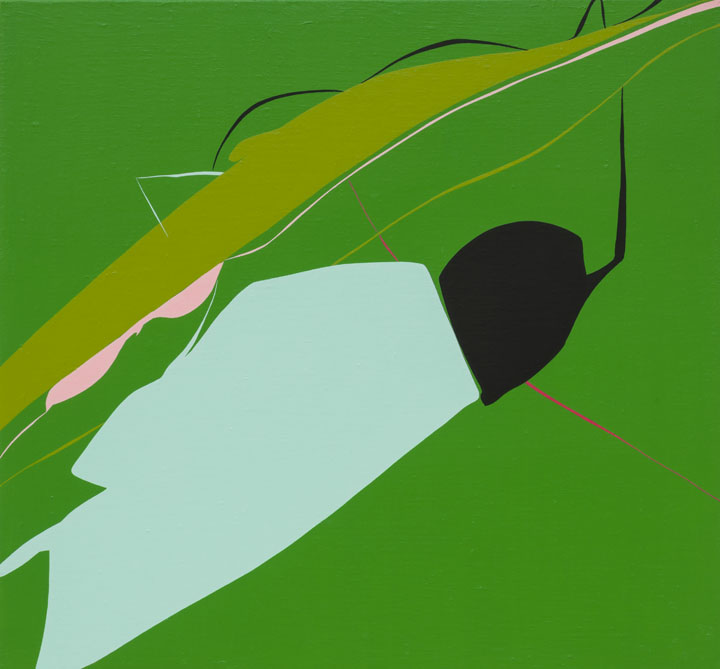 Dancing is too polite a term to describe the kinetic energy in Heather Gwen Martin's oil paintings; it's more like choreographed turbulence where weightless color formations blossom and flutter in crosswind currents. Her use of dramatic scale shifts amplifies the chromatic choreography and also allows for quiet moments where smaller slender shapes gently tip-toe around the vast swells of flowing space.
Born in 1977 in Saskatchewan, Canada, Martin studied at the University of California, San Diego and The School of the Art Institute of Chicago. Her work has been seen in museum and gallery exhibitions as far afield as Italy, New York, Detroit and Houston. Her work will also be featured in the forthcoming exhibition Chaos and Awe Painting for the 21st Century at the Frist Art Museum, Nashville, TN, and traveling to the Chrysler Museum of Art, Norfolk, VA. Martin lives and works in Los Angeles and is represented by L.A. Louver.

Eric Zammitt's carefully placed color juxtapositions often produce curvilinear waveform compositions that appear to be the visual equivalent of a tremolo sound with progressively changing notes and volume. His work feels both natural with its radiant glow and digital with its planned structure. His sculptural pieces are towering stacks of horizontal color that fit perfectly together like a cross-section of an architectural prism.
Born in 1960 in Los Angeles, California, Zammitt creates paintings and sculptures in the medium of colored plexiglas. His intricately composed and assembled paintings and sculptures are often associated with light, music, mosaics, energy fields, and concepts of quantum theory. He has shown in the U.S. and internationally, and his work is part of many private and public collections including the Los Angeles County Museum of Art, Los Angeles, the Museum of Art and History, Lancaster, California, and the Gerald E. Buck Collection.
More Information About the Artists
Karl Benjamin on Color Theory video – https://clmoa.org/wp-content/uploads/2013/04/KB_colorTheory_Quick_high-1.mp4
Heather Gwen Martin video – https://www.youtube.com/watch?v=TFtORDXQPXc
Eric Zammitt video – https://www.youtube.com/watch?v=25684zuxWNY
About the Exhibition
Curated by Dion Johnson, Intersecting at the Edge reveals the rich interplay between chromatic space and pictorial motion that unites these artists' works. In Benjamin's Black and Gray Curves with Purple (1960), a breeze seems to gently animate planes of color; similarly, the shapes and hues in Martin's Cue (2017) appear airborne like sails and streamers. Benjamin's #1 (1992) feels like a party where curvy shapes dance to color rather than music, and in Zammitt's Grey Spectral Nocturne II (2014), the party confetti rhythmically forms colorful trajectories.