Claremont Museum of Art expands permanent collection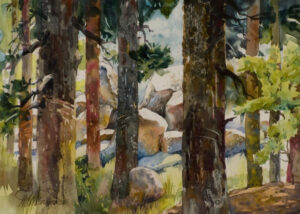 (March 7, 2012) – The Claremont Museum of Art is pleased to announce the recent acquisition of two artworks by prominent Claremont artists: a watercolor painting by Martha Underwood and a bronze sculpture by Aldo Casanova. Both artworks are on view in our current exhibition FROM THE VAULT: Selections from the Claremont Museum of Art Permanent Collection through March 31 at the American Museum of Ceramic Art, 399 N. Garey Ave., Pomona.
A graduate of Scripps College with an MFA from Otis Art Institute, Underwood designed and produced mosaic murals for Millard Sheets, taught art at Chaffey College for 27 years and was well known for her skill with watercolor. She passed away on February 15, 2012.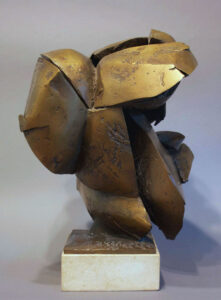 As a young sculptor, Casanova received the Prix de Rome in 1958. After three years or art study in Italy and completing his Ph.D., he came to teach sculpture at Scripps College for 30 years. His work is included in many major collections
including the Whitney Museum of Art, the Hirshhorn Collection in Washington, D.C., The Huntington Library, and the U.C.L.A. Sculpture Garden.
The permanent collection of the Claremont Museum of Art began even before the museum established a physical home in 2006. Due to the generosity of the artists and individuals and their belief in the core values of the fledgling museum the collection grew to nearly 80 works in three years. Gifts of art continued even as the museum faced it's most challenging times and eventual closing.
Despite the loss of a public venue the Museum still holds the collection in trust for the public. Through collaborations and loans, portions of the collection have been recently exhibited at AMOCA and The Huntington Library. Meanwhile, CMA has rebuilt its membership and continues to hold events, exhibitions and develop its art education programs.