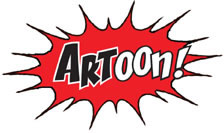 Welcome to ARToon 2.0! This is the second year ARToon, an original Claremont Lewis Museum of Art after-school arts education project, takes the art of cartooning to the "'tween" age group at Claremont's El Roble Intermediate School. As classes progress, the 40 students will develop signature characters and storylines around which they'll create an original graphic novel or comic book concept.
The ARToonistas once again are working under the tutelage of El Roble's art teacher, Wendy Kubiak. Joining the ARToon program full time this year is L.A. professional cartoonist and comic book artist Javier Hernandez, who is sharing his cartooning talent, tips, and insights into the creation of signature comic book characters.
In addition, graphic novelist Jules Rivera visited the ARToon classroom on January 21 to help students develop their graphic novel style and inking marker technique.
Each ARToonista will create an original large format page from his or her comic book or graphic novel concept. Finished student cartoons once again will be exhibited on the Art Wall located at the east end of The Packing House in the West Village and will be unveiled with a public artist reception at 5:30 p.m. on Friday, March 21.
ARToon is produced solely by the Claremont Lewis Museum of Art in partnership with El Roble Intermediate School and is funded by a generous donation from a CLMA member.
As the director of arts education for the Claremont Lewis Museum of Art (2007–2009), Lori Evans Lama created the ArtX art competition for high school students and the aRtPM graffiti art project for middle school students along with a comprehensive menu of public gallery programs.
Prior to her work with CLMA, Lori was a senior programming staff member at PBS and later a Vice President/Broadcast executive for an international media company. Lori is also an award-winning writer, director and producer.
Gallery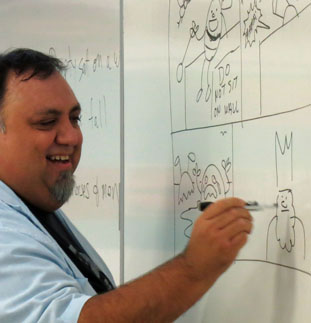 Related Links
March 10, 2014 – ARToon Goes Public at The Packing House
January 25, 2013 – ARToon kicks off with cartoonist Lalo Alcaraz visit to El Roble
ARToon Photos
ARToon in Action, Spring 2014
Cartoon Galley, Spring 2013
ARToon in Action, Spring 2013