ARToon Goes Public at The Packing House
March 10, 2014 – Where are you likely to find Space Kitty, Foxman, The Sleepwalker, Turtle Boy, The Golden Grasshopper, The Dependable Man and Lollipop Love all at the same time and in the same place? Answer: on the ARToon Art Wall exhibition at the east patio of The Packing House, 532 W. First Street in Claremont on Friday, March 21st at 5:30pm.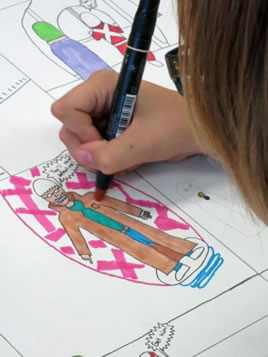 ARToon is an original Claremont Museum of Art after school arts education program that helps El Roble Intermediate School students discover the art of cartooning. The program is celebrating the close of its second year of cartoon instruction this month. Each of the 32 "ARToonistas" created an original, large format page from his or her comic book or graphic novel concept. The cartoons are being printed onto vinyl that will be installed onto the 8 ft. by 24 ft. Art Wall located on the east patio adjacent to The Packing House.
Student artists, their parents and relatives, El Roble faculty and staff, and the Claremont community are invited to celebrate the unveiling of the ARToon student cartoons at the site of the Art Wall. The public is encouraged to join the party in the West Village on Friday, March 21st at 5:30pm. Light refreshments will be served. The 2014 ARToon Art Wall cartoon exhibition replaces the 2013 ARToon exhibition. The new 2014 exhibition will remain in place on the Art Wall through August 2014.
ARToon Art Wall Unveiling and Artist Reception, Friday, March 21, 5:30pm
The Packing House, East Patio, 532 W. First Street, Claremont
ARToon is produced solely by the Claremont Museum of Art in partnership with El Roble Intermediate School and funded by generous donations from a CMA member and Claremont
contributors Peggy A. Carlson, Wealthcare Capital Management Inc. and Gould Asset Management, LLC.