Claremont Museum of Art to Open at the Depot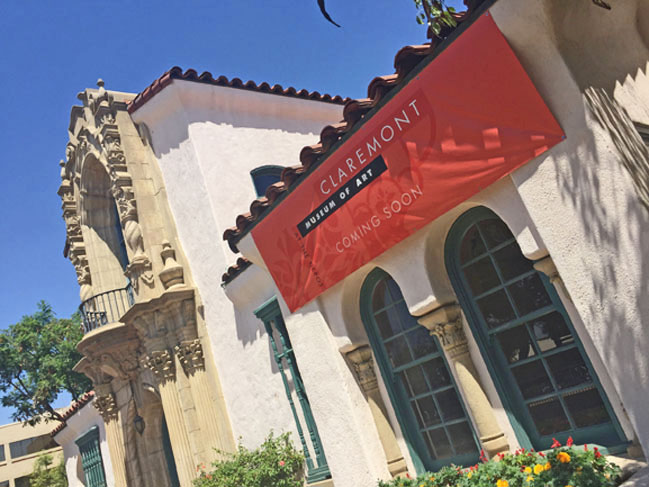 Thanks to generous and enthusiastic community support, the Claremont Museum of Art has raised over $150,000 to renovate and repurpose the Claremont Depot into a jewel of a small museum. Phase I of the renovation is nearing completion and the first exhibition will soon be installed.
The Board of Directors of the Claremont Museum of Art is exceptionally grateful to the Depot Challenge Grant funders and Challenge Match donors for their commitment and generosity to the Phase I renovation of the Claremont Depot. See our complete list of Depot Renovation Fund Donors.
The community is invited to join in celebrating this first big milestone in the transformation of the Claremont Depot on Sunday, November 20, from noon to 4:00 pm at the Depot, 200 W. First Street in Claremont. The opening exhibition, (re)Generation: Six Decades of Claremont Artists will be on view and visitors will enjoy light refreshments and art-making activities led by Project ARTstART students. There will be an official ribbon cutting with the City Council and Chamber of Commerce on Monday, November 21 at 5:30 p.m.
Under the direction of local architect John Bohn and Bob Soderberg of Alchemy Construction the former Foothill Transit Ticket Office has been transformed with a second "skin," so art can be installed on the new walls without harming the original structure.  The elegant Atrium has been polished up with new gallery lights in the chandelier, new paint, and some much needed repair work. The bathrooms have also been renewed with all new fixtures, paint and new lighting.  The changes are so subtle and ingenious that they mask the incredible amount of time, effort and creativity that went into the renovation.
Phase II will focus on the two most eastern rooms in the building that will require more extensive renovation and will require additional time and resources. The City of Claremont will be partnering with CMA on underwriting Phase II with special grants earmarked specifically for this project.
The opening exhibition, (re)Generation: Six Decades of Claremont Artists, will feature selections from the museum's permanent collection that reflect our region's rich artistic legacy from the influence of Millard Sheets and the artists who arrived in the 1940s to the GIs who came to study after WWII, to the many contemporary artists who continue to call Claremont home. The exhibition, generously sponsored by Gould Asset Management LLC, will be on view through March 12, 2017.
The Claremont Museum of Art will be open Friday through Sunday, noon to 4:00pm with free admission through December. The museum will also be open 6-9:00pm the First Saturday of each month for the Art Walk.
Press Release – "Claremont Museum of Art to Open at the Depot" [PDF]