Explore Claremont Art Studios with OpenART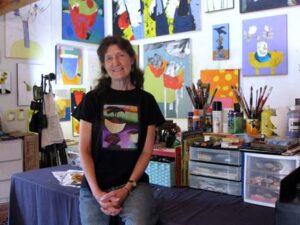 (Updated June 1, 2014) The Claremont Museum of Art invites you to explore the multitude of studios tucked into local neighborhoods and business parks on Saturday, June 7. Over 20 area artists will open their studios to the public for OpenART on June 7. Visit your favorite artists from 11 a.m. to 4 p.m.or discover a new one! Then mingle at the Artist's Party from 4-8 p.m. at the Garner House.
OpenART Studio Tour presented by the Claremont Museum of Art
Saturday, June 7 – Studios open 11 a.m.-4 p.m., Artists' party 4-8 p.m.
Memorial Park, 840 N. Indian Hill Blvd., Claremont CA 91711
Admission is $40 for the all-day event
Check-in will begin at 10:30 a.m. at Memorial Park, where guests will receive a color map for locating the studios. Works by participating artists will be on view in the gallery, and patrons will  have the opportunity to win a favorite artist's work. The event will end with An Artists' Party from 4 to 8 p.m. at Garner House. Participating artists include Opoku Acheampong, Barry Cisneros, Steve Comba, Max Emadi, Cathy Garcia, Crispin Gonzales, Mike Hill, Mary Hughes, Aleta Jacobson, Carolyn Lee, Karen and John Neiuber, Osvaldo Orellana, Elizabeth Preston, Anne Seltzer, Tom Skelly, Jeanne Steffan, Norma Tanega, Georgette Unis, Ahlene Welsh.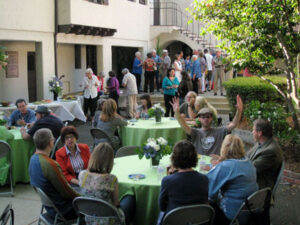 And, of course, you won't want to miss the popular Artists' Party from 4-8 p.m. in the courtyard of the Garner House. Join the fun and take a chance to win a piece by your favorite artist. This event only occurs every two years, so don't miss out!
Cost for the tour and party is $40 per person. To purchase advance reservations for $35, mail a check to Claremont Museum of Art, P.O. Box 1136, Claremont, CA 91711, email info@claremontmuseum.org or come by the Claremont Heritage Ginger Elliott Exhibition Space from 6 to 9 p.m. on Friday, June 6 to preview the OpenART exhibition and purchase advance tickets.
Special thanks to OpenART sponsors Wheeler-Steffen Sotheby's International Realty and State Farm, Randy Prout and Eric Martinez.