Museum Finds a Home at the Claremont Depot (updated)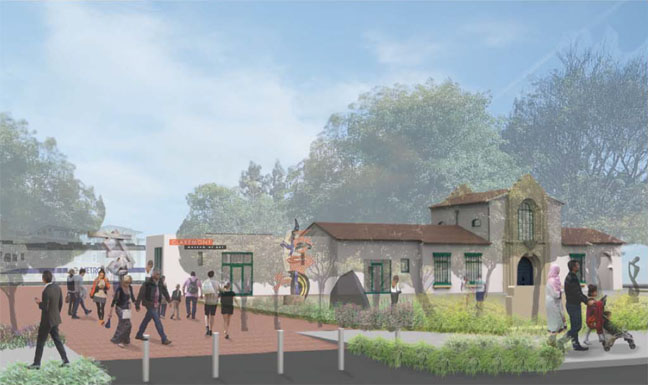 After a great deal of planning, collaboration and high hopes, the Claremont Museum of Art has signed a lease with the City for the Claremont Depot to serve as CMA's permanent home. The beautifully restored Depot, an iconic building in the Village, has been under-utilized for 25 years despite numerous efforts to find the right tenant. This facility offers the perfect setting to showcase the exceptional works of our Claremont artists, past, present and future, as well as opportunities on the lawn for ARTstART activities, art classes for children and adults, and other art-related events and programs.
We are extremely grateful to City Manager Tony Ramos, Mayor Corey Calaycay, and the City Council for their enthusiastic support of CMA and our shared vision of Claremont as a popular arts destination in Southern California.
Now the real work begins as CMA undertakes the renovation of the interior of the historic facility to bring it up to the standards of the elegant exterior. The work will be done in two phases to allow CMA to move into the Depot as soon as possible and make it a vibrant addition to the community. Phase I will involve the renovation of the current Foothill Transit ticket office and the atrium lobby into exhibit space.
Phase II involves the two most eastern rooms in the facility, which will take considerably more time and resources, and will not begin until 2017. CMA, a totally volunteer-run organization, is responsible for raising the funds necessary for Phase I of the remodeling to begin in late February.
CMA's Claremont Depot Advisory Committee has retained local architect John Bohn, AIA LEED AP, who has experience in museum architecture and is an architectural instructor at SCI-Arc in Los Angeles, to work with them in developing a vision for the museum in the Claremont Depot.
We reach out to you, our members and supporters, to join us in this exciting endeavor. Your gift to the Depot Renovation Fund will help us begin Phase I of the Depot renovation. Donors of $1,000 or more will be recognized publicly at our grand opening exhibition. Send your check to the Claremont Museum of Art, PO Box 1136, Claremont, CA 91711. Be sure to mark it "Depot" in the memo.